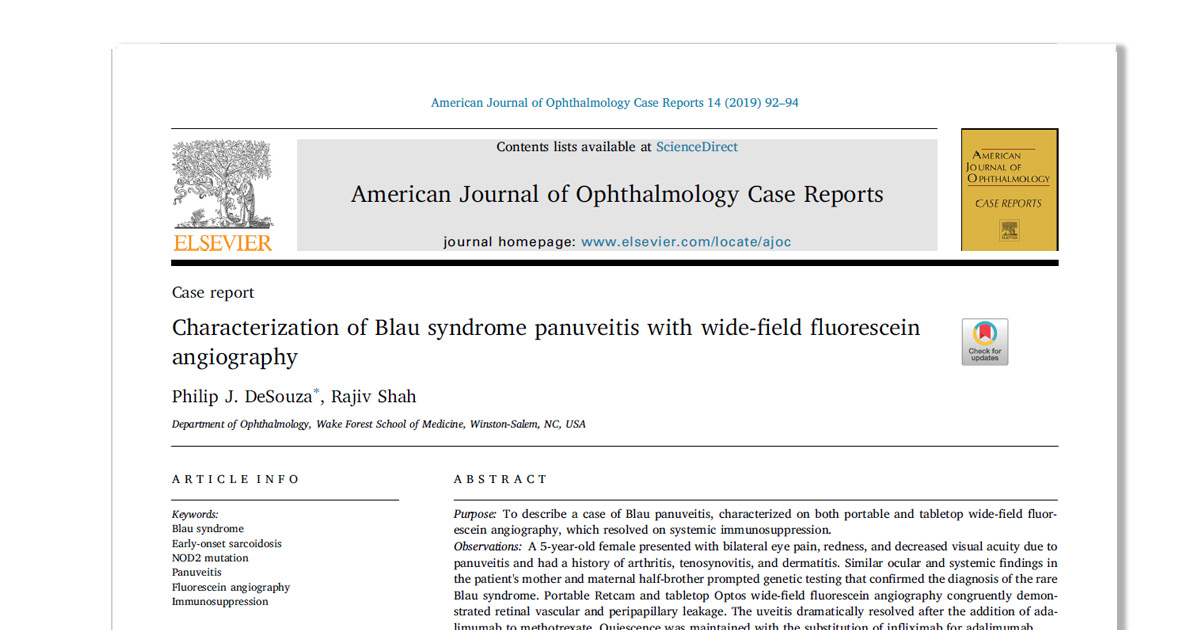 Version
Download

310

File Size

516.90 KB

File Count

1

Create Date

July 18, 2019

Last Updated

December 11, 2020
Characterization of Blau syndrome panuveitis with wide-field fluorescein angiography
Purpose: To describe a case of Blau panuveitis, characterized on both portable and tabletop wide-field fluorescein angiography, which resolved on systemic immunosuppression.
Observations: A 5-year-old female presented with bilateral eye pain, redness, and decreased visual acuity due to panuveitis and had a history of arthritis, tenosynovitis, and dermatitis. Similar ocular and systemic findings in the patient's mother and maternal half-brother prompted genetic testing that confirmed the diagnosis of the rare Blau syndrome. Portable Retcam and tabletop Optos wide-field fluorescein angiography congruently demonstrated retinal vascular and peripapillary leakage. The uveitis dramatically resolved after the addition of adalimumab to methotrexate. Quiescence was maintained with the substitution of infliximab for adalimumab.
Conclusions and Importance: To our knowledge, we are first to characterize Blau panuveitis retinal findings on wide-field fluorescein angiography and with the use of two different photography systems. Additionally, this report underscores the salient clinical findings of a rare disorder and suggests that robust systemic immunosuppression can effectively treat refractory ocular inflammation.
Attached Files
| File | Action |
| --- | --- |
| Characterization of Blau Syndrome Panuveitis with Wide-Field Fluorescein Angiography.pdf | Download |